Compliance is an organizational process aimed at encouraging ethical behavior at work. However, it is not sufficient to guarantee ethics. It can also be perceived as a top-down constraint, pressuring even more managers who have already many balls in their hands. On the other hand, it is often a first measure to meet the expectations of regulators and stakeholders. A key aspect is to consider compliance not as an end in itself but as a means to promote ethics beyond compliance.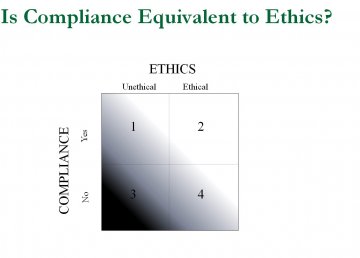 Approaching compliance and ethics as a grey zone allows to rationally think about the various situations where ethics conflicts with economic and financial interest. What are these situations and how can we analyze them? How do we act in front of these dilemmas and how can we honestly talk about them, inside and outside the organization?
These questions are at the center of a session whose objective is to empower participants to strive in the grey zone of business ethics and to move beyond compliance. Leading us outside our zone of comfort, the interactive method gives a special emphasis on the emotional character of values-loaded decisions.
In terms of organizational ethcis, moving beyond compliance can be especially useful to contextualize and harness a code of conduct. Because ethics is not guaranteed by compliance, it also helps to uncover ethical risks, to create a more ethical climate and to nurture a values-based culture.
Designed for a leading company of more than 200.000 employees, this session allowed to move from seeing compliance as a constraint to ethics as an opportunity. Thanks to the genuinely honest discussion about the difficulties of combining ethical values and business interest, it raised enthusiasm and willingness to act.