My first visit to Rocklands in South Africa in 2014 was a calling.
From the rock art of our ancestors the San people, I felt African for the first time.
Guest to some beautiful wine farm in Stellenbosch, I felt white. Forgiven by the blessing of Madiba, I felt in need of redemption.
And it is among the boulders of Rocklands that I knew how deeply I was a climber.
I dreamed of discovering my self and its shadows in this eternal landscape and in this society of social transformation.
To lose yourself in the Rocklands landscape is to find a path within Gaïa
Serendipity offered the opportunity to push forward a partnership between INSEAD in Fontainebleau and the University of Stellenbosch. This led to the African Directors Program and its leading-edge intention to train directors in a vision of business at the service of ethics, responsibility and sustainability. It was also the occasion for me to try a new relation to money: I would dedicate my fees to some social project in the country.
The San, our First People
From there, my intention would help me to meet people. I entered into conversations about what could be done. Climbing grows at a rate of at least 20% each year in Rocklands, bringing tourists of a special type. Climbers stay for a much longer time than flowers' lovers, cherish the wilderness like Bushmen and like to bond with local people. Even for the farms where crops remain the main source of revenues, climbing disrupts the social dynamics.
Alas, willing to "do something", most of my ideas and the ones generated with these discussions were inappropriate. They were an opportunity to take conscience of my prejudices. I needed to clean my mind to let the dream take its own shape. I needed to heal my soul to let the dream have a life on its own. I needed to be ready not to do anything so as to perceive a form of energy independent of my self.
While visiting the Sustainability Institute in Stellenbosch with my co-director Arnold Smit and my friend Desiré Gird, I thought of my soul brother Txema Gomez and his idea to build boulders for outdoor climbing. We then pursued this in Barcelona and Txema, seduced by the idea, proposed to build Gaïa for Rocklands. He had built the first Gaïa has a self-present for his 50th anniversary and it had a very special meaning to him (see his song below).
Txema Gomez, climber, poet, composer, Gaia builder... Here in Rocklands (photo James Frost)
I came for 2 months mi-July 2016 and things then began to flow. My local friends Charité, Becky and James all pointed to JP and Tracy who I had met the year before. That night, we spoke a lot about Indaba and the spirit of the Bantu people, the power of the landscape and the tragedy of the San people. That week, the climbing school they were animating received so much gifts that JP and Tracy decided to hand over to Elizabeth Fontain, the local primary school. All sign pointing in the same direction, they said we should build Gaïa there.
The Small World (Gaia Boulder)

Since I couldn't fix the world

I built a new one

For me and for dreamers

Some say I am a fool

And I agree with them

It is my own protection

Homage from my heart

It cannot contain my tears

Witnessing so much pain

Turn, turn my small world

The climber becomes stronger

In the end it is just a game

Beware climbers

At the location of New York

There is a tricky move

Hold on and pull hard

Keep breathing

You will make a virtuous jump

It is the magic of this boulder

When each revolution

Is at the service of joy.

Txema Gomez
The day Txema arrived from Europe, the school was running its annual Climbers' party and Annatjie Domus, its headmistress, was already announcing the welcoming of Gaïa at the school! Unio Joubert, a climber, had joined the school a few weeks before and would become a most inspiring and supporting fellow. Thanks to Charité's husband Edu and her mother Effie, Dr Strauss accepted to lend us a workshop close to the school. Thys and Marc from De Pakhuis were eager to help lending us the necessary tols. I found help in the local suppliers to order the fibreglass, the resin and the rest of the material.
Painting Gaïa (photo Scott Noy)
The building of Gaïa itself took less than 3 weeks. From the start, James Frost joined the team and became Txema's first acolyte. Lisa, Clara, Scott and Kaddi, Jim and Elmar were helping in a thousand ways and especially to draw a beautiful map of the earth on the ball. The children would come to visit from time to time until we brought the ball to the school. We had no holds and found a great help from Citirocksthrough its founder Robert Breyer and Metoliuswho agreed to contribute as a sponsor. Gecko Grips also agreed to make a special price for us and I contacted Mike Behr who was willing to help by giving holds. Everyone wanted to help the success of Gaïa.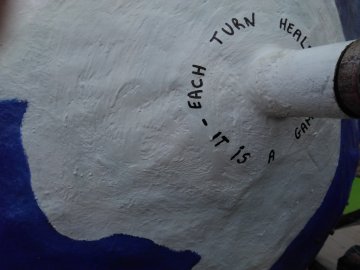 Gaïa Spirit
The end of the construction was the beginning of the work of Gaïa itself. It is as if Gaïa was a spirit guiding the whole project, finding its way among the people and taking form in the material world. We wrote the two phrases Txema and I had selected: "Each turn heals – It is a game" on the South pole.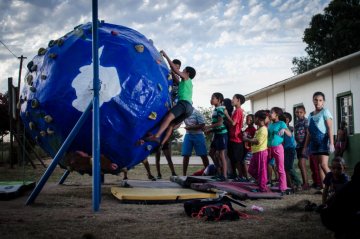 The Gaia Ball

Gaia (Mother Earth) Ball is the brainchild of Catalonian climber and master builder Txema Gomez. The project was funded and spearheaded by Marc Le Menestrel a French climber and sustainable business expert. The message from the ball "healing each turn" and "it's a game" is an open invitation for movement by climbing on the ball. The speed of the rotation is controlled by a rope-brake system that can also be fixed to create a static climbing device.
This project will allow learners to climb on only the second of its kind rotating climbing globe and we believe develop both cognitive and physiological life skills. By moving on the Gaia ball problem solving will enable learners to learn how to regulate and control their bodies and minds. Self-regulation is thus taught and the hope is that our learners will in the future be able to use this amazing tool independently and without adult supervision.
This project is part of a larger drive by organizations such as the Rocklands Rangers to develop and promote climbing within the local community of the Agter Pakhuis area. The future growth of climbing we feel can only help healing in our school and community.-Thank you to all the hands that helped to build and erect this new fun learning solution.

Unio Joubert
A link to Unio Joubert's account of Gaïa on CLIMB ZA
With Gaïa, I have learned to lead a dream project with the spirits, in the flow and at the service of some energy for social transformation. I felt the magic of life and I felt the healing very much, and in particular for the white man in me. Healing was happening to others I guess, even if it is always very difficult to judge from outside. And sometimes healing takes time and goes through phases. What was obvious was the joy of the kids climbing Gaïa after school or during their Physical Education class. I hope the images and videos pay tribute to this.
Thanks for helping Gaïa

Txema – James - Gim Huay - Lisa - Clara - Scott and Kaddi - Jim - Elmar - Desiré - Becky and James - Lizzie and Connie - JP and Tracy - Charité and Edu - Dr Strauss and Effie - Thys and Marc - Unio and Annatjie – Arnold - Lauren – Mike – Robert - Brooke – Kurt - Jaco